Candidates announced for the 2nd Hong Kong International Conducting Competition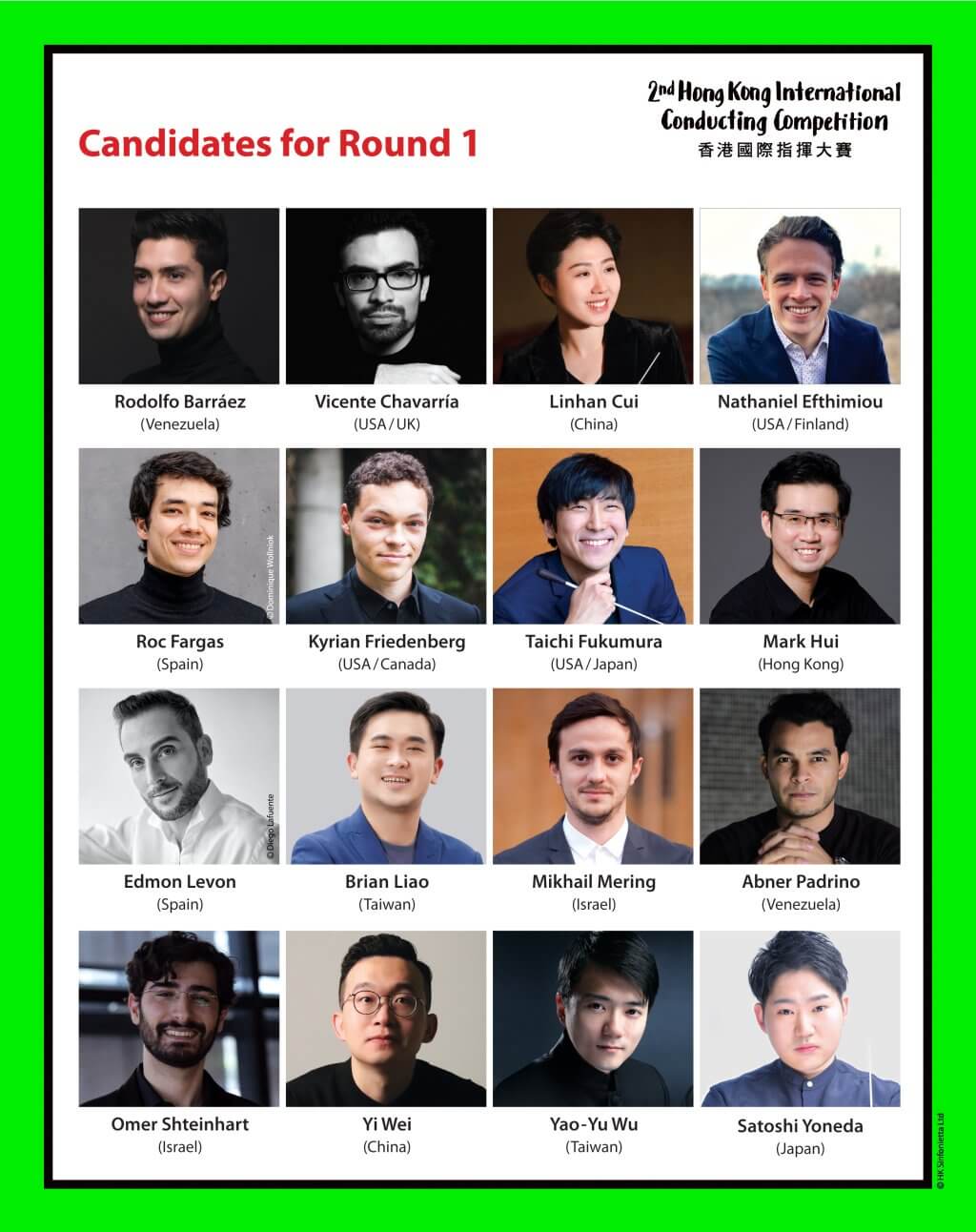 Organised by Hong Kong Sinfonietta, the 2nd Hong Kong International Conducting Competition is pleased to announce the 16 Candidates who stood out from 194 applications coming from 45 countries/regions worldwide, and were shortlisted for Round 1 of the Competition. They come from China, Taiwan, Hong Kong, Japan, the USA, Spain, Israel, Venezuela etc.
On 22-26 Mar 2023 at Hong Kong City Hall, the Candidates will be competing for the 1st, 2nd, 3rd, Orchestra and Audience prizes over three rounds of competition. Tickets for observers will go on sale at URBTIX and POPTICKET on 4 Feb 2023 – more details to come in due course.
The Competition provides an invaluable platform for young conductors under the age of 35 to establish a network in Asia. The preliminary selection was completed in November 2022 by Competition Co-chairs Yip Wing-sie (Music Director Emeritus of Hong Kong Sinfonietta) and Christoph Poppen (Principal Guest Conductor of Hong Kong Sinfonietta, Principal Conductor of Cologne Chamber Orchestra), as well as James Cuddeford (Concertmaster of Hong Kong Sinfonietta).
Yip expressed, "The standard of the next generation of young conductors is getting higher and higher, and I'm very pleased about that. I'm also very glad that we here in Hong Kong are able to provide another platform for young conductors to showcase their talent."
Poppen said, "We listened to nearly 200 applications – all serious young conductors. The level of the 16 invited Candidates is extremely high and I'm looking very much forward to the real Competition."
The 1st Prize winner of the Competition will take home HK$200,000 as well as a concert engagement with Hong Kong Sinfonietta in the 2023/2024 season, and mentorship opportunities with selected members of the Jury. Made up of international conductors and people shaping the music business today, and on top of Co-chairs Yip Wing-sie and Christoph Poppen, the Jury includes Lü Shao-Chia (Conductor Emeritus, Taiwan Philharmonic), Thierry d'Argoubet (Former General Manager, Orchestre National du Capitole de Toulouse), Philipp Ernst (Artistic Planning & Deputy Managing Director, Munich Chamber Orchestra – Münchener Kammerorchester), Xenia Groh-Hu (Managing Director, karsten witt musik management), as well as James Cuddeford and Laurent Perrin (Concertmaster and Assistant Principal Cello respectively) of Hong Kong Sinfonietta.
The 16 candidates who will compete in Round 1 are:
Rodolfo BARRÁEZ (Venezuela, 29)
Vicente CHAVARRÍA (USA/UK, 34)
Linhan CUI (China, 28)
Nathaniel EFTHIMIOU (USA/Finland, 30)
Roc FARGAS (Spain, 26)
Kyrian FRIEDENBERG (USA/Canada, 23)
Taichi FUKUMURA (USA/Japan, 30)
Mark HUI (Hong Kong, 31)
Edmon LEVON (Spain, 34)
Brian LIAO (Taiwan, 30)
Mikhail MERING (Israel, 31)
Abner PADRINO (Venezuela, 30)
Omer SHTEINHART (Israel, 27)
Yi WEI (China, 26)
Yao-Yu WU (Taiwan, 33)
Satoshi YONEDA (Japan, 26)
More about the Candidates can be found HERE.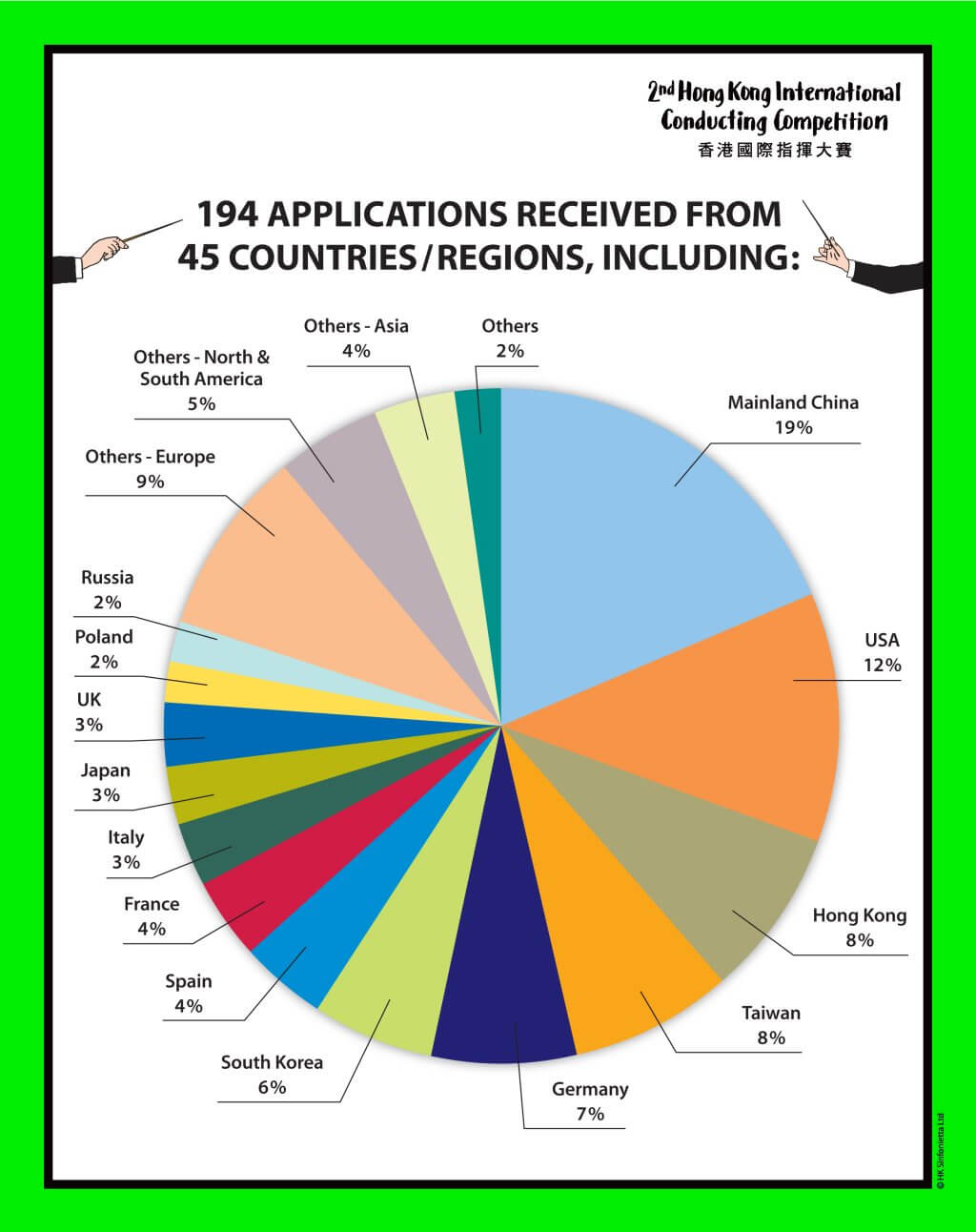 More information about the 2nd Competition can be found HERE

.